Information
Aluminum Nitride PCB
Superior performance in thermal conductivity and reliability for Aluminum Nitride PCB
Aluminum Nitride (AlN) PCB is currently the best ceramic substrate material available. thanks to its high thermal conductivity (170 W/mK) combined with a high dielectric strength and low expansion (CTE) it is already widely used as a substrate or package for high power LEDs, IC's, sensors and other components.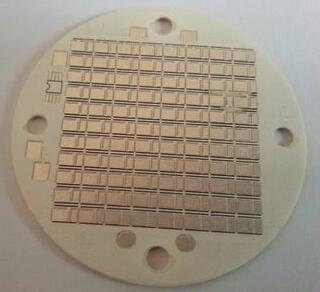 Ceramics PCB advantages over other printed circuit boards:
•Superior thermal conductivity 170W/mK
•Strong dielectric
•High operating temperature >350ºC
•Low expansion coefficient <4 ppm/C
•Smaller package size due to integration
•Hermetic packages possible, 0% water absorption
•Limited to no outgassing
Circuits can either be printed using Copper (Cu) or Silver (Ag) depending on the application and the request. Copper is offered both in DBC/DPC as well as Thick film screen print processes while silver can only be done in using the second manufacturing option. Today we are only able to manufacture single or double layer designs.
Solder resist and surface finishes can be applied similarly to regular PCB when copper metallization is used. However, for silver thick film designs, we offer only a glass solder mask which is recommended for high-temperature designs. For high sulfur environments where silver corrosion can be an issue, we offer Gold plating as a solution to protect the exposed pads.